If you are a 90s kid, you must have indeed watched Hannah Montana at Disney when you were young, right? Miley Cyrus has been a sensation since then. It was not just her show but also her songs that made us groove. Needless to say, the gorgeous celebrity won our hearts instantly with her endearing nature. In fact, most young girls also got hold of stationery items that had Miley Cyrus' name and pictures on them. So you can well understand how crazy people were for her one glance.
However, today we are discussing her due to a completely different reason. If you are an active social media user, you will know that Miley Cyrus responded to Selena Gomez making an impression on her on "Saturday Night Live." At the same time, she might have also found a way to make money from the monologue moment. 
So would you like to know what exactly happened? Stay with us until the end, as we will share what Cyrus said about Gomez's performance on the comedy show. Let us have a look!
Some Fascinating Details About Miley Cyrus
There are very few people who belong to this generation and haven't heard the name Miley Cyrus. Let us share some significant details of her life. On November 23, 1992, Cyrus was born in Franklin, Tennessee, the United States. Therefore, she is presently 29 years old. Her fans also know her by the name Miley Hemsworth. Apart from being a singer, she is also a songwriter, actress, and television personality. In fact, her fans know her for her raspy voice.
If you have listened to her songs, you will know that her music incorporates varied styles and genres elements. This includes pop, country pop, hip hop, experimental, and rock. Needless to say, the young celebrity has already earned several awards and accolades. Moreover, she has attained the most US Billboard 200 top-five albums in the 21st century by a female artist with a total of thirteen entries.
However, she emerged as a teen idol while portraying the titular character of the Disney Channel TV series Hannah Montana (2006-2011). In fact, for this show, she attained two number-one and three top-five soundtracks on the US Billboard 200. This also included the US Billboard Hot 100 top-ten single "He Could Be the One."
Furthermore, Cyrus's own discography includes the US number-one albums "Meet Miley Cyrus" (2007), "Breakout" (2008), "Bangerz" (2013), and several others. Many of you might not know that Cyrus is also an advocate for animal rights. In fact, to support this, she has also adopted a vegan lifestyle in 2014. Also, she founded her non-profit organization, Happy Hippie Foundation, which focuses on homeless youths and the LGBT community in the same year.
Also read: Scott Disick and Bachelor's Corinne Olympios Seen Together in Miami: Are They Dating?
Selena Gomez Made A Hilariously Accurate Impression of Miley Cyrus While Hosting SNL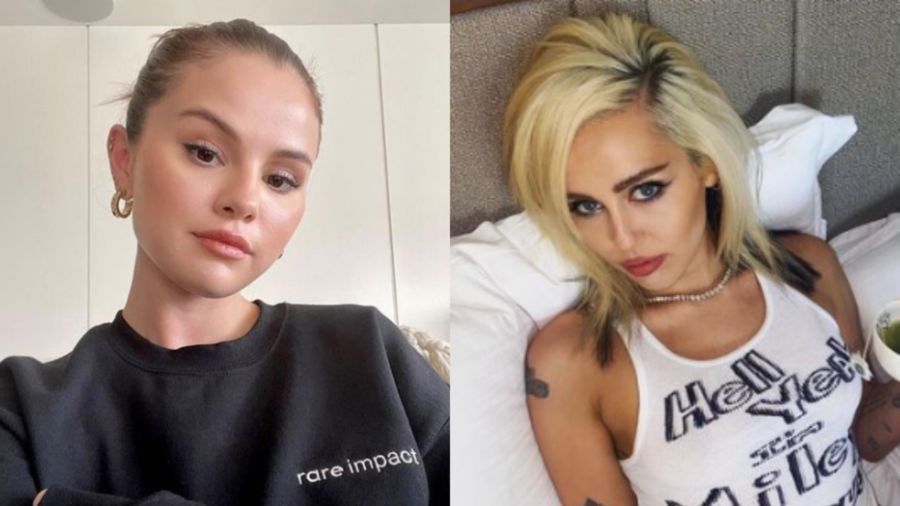 Many of you who regularly watch the famous show "Saturday Night Live" will know that Selena Gomez recently hosted the show. This was her first time hosting the show, unlike her friend Miley Cyrus. However, not for once could the audience feel that this was her first time.
Therefore, Gomez delighted the crowd with an extended riff on her dating life during her opening monologue. Here several cast members tried to have a chance to impress the former Disney star. She also made the audience sing along with her in a famous song from her show.
However, it was one moment from Gomez's monologue that the fans couldn't stop talking about. It was her spot-on impression of her fellow actor and musician, Miley Cyrus. So Gomez had set up the viral moment by revealing that she had reached out to her friend before coming to the show for some advice since Miley Cyrus was familiar with the SNL stage.
So when Selena Gomez asked one of her oldest friends Miley Cyrus to help her out by providing some tips, Cyrus jokingly replied, "Just be yourself and have fun." Here Gomez said, mimicking Cyrus' signature low drawl, "Miley, is that just an excuse for me to make an impression of you on the show?" Miley replied to this by saying that "Hell yeah, I'm Miley Cyrus." The episode was quite hilarious, right?
What was Miley Cyrus' Reaction To Selena Gomez's Impression of Her on SNL?
Just after Selena Gomez's impression of Miley Cyrus on SNL went viral, it looks like Cyrus took her fellow Disney star's impression of her in stride. Let us find out the details. Well, it was on May 17th that Cyrus responded to the monologue moment with an Instagram post.
Most of you who have seen her post will know what she had shared there. Cyrus had shared two photos of herself in bed holding a cup of tea. At the same time, the Hannah Montana star wore a white tank top with the words "Hell Yeah I'm Miley Cyrus" drawn on in black ink.
Also, in the third slide of her post, Cyrus added a video clip of Gomez mimicking her on Saturday Night Live. So you can well understand that both of them share a great bonding and are pretty good friends.
Fans Showed Their Love for The "Midnight Sky" Singer's Response
This showbiz world is full of complexities. Therefore, often from a very simple issue, bigger issues crop up among celebrities. Therefore, when Selena Gomez impersonated Miley Cyrus while hosting SNL, fans thought this would probably agitate her friend. However, we could see Cyrus talking it up jokingly.
Therefore, naturally, Miley Cyrus and Selena Gomez's fans adored them for their friendly behavior with each other. In fact, many of them also acknowledged the Disney connection between the two stars, and some begged for a collaboration.
At the same time, some fans also complimented Cyrus and Gomez's long-standing bond with comments like, "I'm in love with your friendship." Meanwhile, others encouraged the musician to sell the tank top or replicas. There was, in fact, a post from one of the fans that said, "You should auction off that shirt." Fans indeed love both the former Disney stars for their amazing personalities.
Ending Note
So as we conclude, we can say Miley Cyrus is one of those stars who reminds us of our childhood shows and makes us nostalgic all over again. Moreover, she is one of the celebrities who maintain a cordial relationship with all her friends in the industry. Especially, Selena Gomez is one of her oldest friends, and both of them have a great bonding. We hope someday we see both of them performing together in any live show or music video.
Also Read: Selena Gomez To Debut for Saturday Night Live: Read What Her Mother Says