Amu and Tammy Slaton have a complex relationship in the 1000-Lb Sisters. One problem between the sisters that comes up often in the show is that Tammy blames Amy for her weight gain. In the three seasons of the show, Tammy has not experienced any good results in her weight endeavors. But instead of taking responsibility for her actions, she is putting all the blame on her sister. She is lashing at her during the therapy sessions and resenting her too. Both the sisters decided to join the show to take care of their weight issues.
But now it has led to a lot of conflicts between the two. One is blaming the other. Here you can find out why Tammy is blaming her sister for the weight problems.
Who is Tammy Slaton?
Tammy Slaton is a thirty-five-year-old television personality, social media influencer, content creator, and vlogger. She is from Dixon, Kentucky, United States. She became popular for her enormous weight. From her youth, she is suffering from overweight health disease.
Tammy appeared in 1000-lb sisters with her sister Amy. In November 2021 she created headlines when she shared about her relationship with boyfriend Philip Redmond.
According to her profile, she completed her education at Union County High School. Then she started to struggle due to her increasing weight.
Tammy was in a long-time relationship with a man named Jerry Sykes. They started to date each other in 2016. It seems Jerry motivated her to lose weight. But according to reports from Tammy's family, he was a bad influence on her. They both have shared pictures of each other on social media. But in February 2021 Tammy separated from Jerry. After that Tammy was determined to lose weight. She was able to focus more on her weight loss journey. Then she began to date Philip Redmond. She shared that Philip is her man. According to sources Philip is a supportive guy.
Now her Youtube channel has 124k subscribers. She has gained a lot of followers because of her appearance on the 1000-Lb TLC show.
Also read: My 600 Lb Life: Where Are They Now? Amazing Transformation
Tammy blaming Amy for her weight gain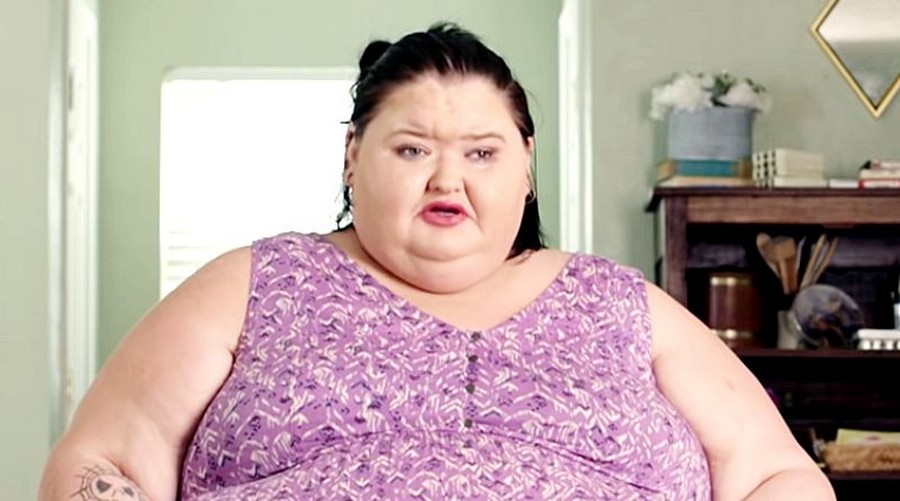 When the viewers first met Tammy on the 1000-Lb Sisters she was immovable because of her weight. Amy took care of her. She slept with a baby monitor so she could know if Tammy needed something. She also allowed Tammy to live with her and her husband. As Tammy had a lot of anxiety leaving the house Amy was the one who did all the shopping for her.
But during the meeting with the therapist on season Tammy blamed Amy for the weight gain. She said, "I look for her to go get my food, something specific and she brings back something different and I'm like 'Is this what I asked for?".
Amy shared that they used Tammy's money for the groceries; she has threatened to call the cops on them because they are not buying her the junk food she wants. But Tammy denied these accusations. Amy shared that from a young age Tammy is addicted to packaged foods. This is one of the reasons why she has gained weight over the years.
Tammy admits that the weight gain is her fault
In the beginning, Tammy shared that Amy was the one who did not help her to lose weight. But later she admitted that part of it is her fault. "I just wasn't doing what I needed to do. I mean, sometimes I try to eat healthier, and then other days I'm like, 'What the heck's the point?'" she said in season 2.
Fortunately for Tammy, her doctors are positive about her weight loss journey. The doctor said "You could've blamed [that] you couldn't get out of bed, you could've blamed that you had COVID and you could've blamed that you were in the hospital, and you didn't," and added, "And believe it or not, that's a step forward from where you've been in the past. So you just made progress even though your weight went up.".
Amy and Tammy's journey on season 3 of '1000-lb Sisters'
Season 3 of '1000-lb Sisters' is ready to premiere soon. Tammy is going to pick right back where she left off. She is going to take lots of steps to lose weight. This will save her life. The synopsis of season 3 shared the events that will unfold in season 3. It is about how Tammy is going to make a life-changing decision to check herself into rehab for food addiction. But her stay might be short-lived as she is considering the best way to reach her goals.
Tammy is also having a new love interest in her life. But it is causing concern for her family as relationships have disrupted Tammy's weight loss journey in the past. It seems she will have trouble making the right decision.
Conclusion
Tammy Slaton is going to face lots of challenges to lose weight. Now she has accepted her responsibility to lose weight. She is no longer blaming her sister for her troubles.
You may also read: Balancing The Scales: Height Weight Chart, BMI, and Body Fat Percentage for Men and Women